Snorkeling
Look just below the surface – that's where all the action is! And PADI's Discover Snorkeling experience is your ticket to the action-packed underwater world.
With tips and suggestions on how to make the most of your snorkeling adventures, this program is based on three simple principles: you snorkel because you want to see and interact with the underwater world, snorkeling is a great adventure and anyone can do it! (Minimum age 8.)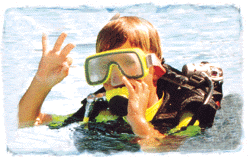 It's time to snorkel - a new and exciting way!
Supplied Air Snorkeling for Youth (SASY) lets you experience the underwater world the easy way - by snorkeling with scuba equipment instead of a snorkel.
I know what you're thinking. How does that work?
It's easy. A SASY unit is basically a personal flotation device (PFD) with a scuba tank and regulator attached. This way, you float with the PFD, but with the scuba equipment attached, you're free to keep your head underwater so you don't miss any of the action beneath the surface.
Snorkeling with SASY - it's fun, it's safe, it's easy!


The PADI Skin Diver program takes your underwater adventures to new depths – literally!
During your program you'll learn about the equipment, diving science, the environment, problem management and the local area.
In addition, you'll practice techniques of breath hold skin diving, entering the water, checking your buoyancy, surface swimming, snorkel clearing.
It'll also build your confidence in your skin diving abilities and help you to explore the mysteries of the aquatic realm.
The PADI Skin Diver program is an is also an excellent pre-training experience for children who want to explore the possibilities but are too young to dive with scuba in the open water.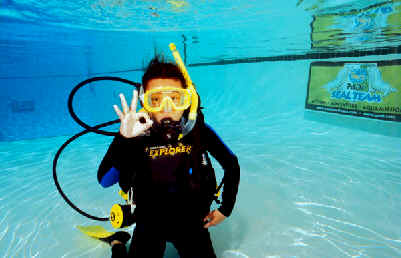 Directions Below Home Page